Have you happened to notice lots of
newspaper
and
magazine
articles about
Abraham Lincoln
and
Charles Darwin
recently? By coincidence these two influential men share the same birthday and February 12, 2009 is the bicentennial of their birth. Check out the
Darwin Day Celebration
website for a countdown to February 12th and an introduction to his ideas on evolution and natural selection.
On display in the GBS Library are a selection of books on Darwin and Lincoln. Included is a new illustrated edition of
The Origin of Species.
This year also marks the 150 year anniversary of the publication of this important work.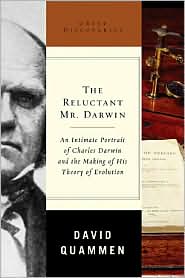 One book that I just finished reading is
The Reluctant Mr. Darwin
by David Quammen. It is a short and very readable biography of Charles Darwin that begins with his life after Beagle voyages. In a witty and somewhat casual style, Quammen provides an understanding of Darwin as a family man and husband. He details the numerous scientific projects that Darwin worked on after he formulated his theory, but before publishing it in his land mark work,
The Origin of Species
. Also included is an overview of the content of
The Origin of Species
and the response to Darwin's ideas.
More books have been published about
Lincoln
than any other American. New books in the GBS Library include:
Abraham Lincoln: Great American Historians on our Sixteenth President
by Brian Lamb. Read a book or browse the
Lincoln Bicentennial
to learn more about our most famous Illinois politician.